Worship Service
New Sermon Series -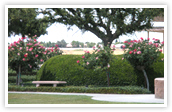 Whether you're visiting this web page miles away from Bakersfield, California, or you visited our worship service this past weekend, we're glad you're here. You can choose to remain ananymous...but we hope you won't. Instead, we hope you'll experience at GCC what God meant church to be: a place where lives are changed in relationship with Jesus Christ and each other as we pursue Him together. We want Grace to be a place where you can "come as you are...and see what you become!" Whenever you're ready, here are a few of the ways we can start to get acquainted:
where Grace Community began and how we came to be who we are today by reading

Our Story

.
Be Known [and be changed]...
in a safe and intimate setting where people grow and journey together in finding your life mission through

Life Groups

.
Grace Community Church is celebrating their 30th year Anniversary. We officially began in April 1985 with an Easter Sunrise Service. Over the years we have established the tradition of an Easter Sunday morning breakast which will be a highlight again this year.
Coming Up Events:
The Seniors in Action Group meet on the third Friday of every month @ 6:30 PM. All Seniors are welcome.
The Grace Men's Breakfast Group meets the last Saturday of every month @ 8:00 AM.
Grace Women's Bible Study meets every Saturday morning @ 9:30 AM