Worship Service
10:45am
New Sermon Series -
The Gospel of Luke
One of the most beautiful stories of Jesus ever told is found in the Gospel of Luke. It is a story that advances our knowledge about who Jesus is one step at a time. It is a story that shows Jesus' compassion for Gentiles, Samaritians, women, children, tax collectors, sinners, and others often marginalized as outcasts of their day. It is a doctor and a meticulous historian who tells us the story. Luke understood a point that has only recently been rediscovered in academic theology, namely that truth is basically a story, not a concept. In the Old Testament and the Gospels, God's interaction with people is not conveyed by means of abstract or philosophical concepts, but through stories.
Pastor Phil, himself is a graduate of history, will be unfolding this story each and every Sunday here at Grace Community. Here you will come to grips with a collectiom of stories about individuals, families, communities, nations, and events, all of which unite to tell the overarching story of God's redemption of humanity.
We invite you to join us on an exciting journey as together we discover the dynamic truth in each story and it can advance your faith and your purpose on this earth . .
Join us at 10:45 AM as we, together, learn the truth of what Luke has to say about Jesus and God's story of redemtion for us all.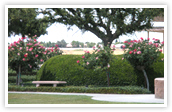 Whether you're visiting this web page miles away from Bakersfield, California, or you visited our worship service this past weekend, we're glad you're here. You can choose to remain ananymous...but we hope you won't. Instead, we hope you'll experience at GCC what God meant church to be: a place where lives are changed in relationship with Jesus Christ and each other as we pursue Him together. We want Grace to be a place where you can "come as you are...and see what you become!" Whenever you're ready, here are a few of the ways we can start to get acquainted:
where Grace Community began and how we came to be who we are today by reading

Our Story

.
Be Known [and be changed]...
in a safe and intimate setting where people grow and journey together in finding your life mission through

Life Groups

.
Grace Community Church is celebrating their 30th year Anniversary. We officially began in April 1985 with an Easter Sunrise Service. Over the years we have established the tradition of an Easter Sunday morning breakast which will be a highlight again this year.
Coming Up Events:
The Seniors in Action Group meet on the third Friday of every month @ 6:30 PM. All Seniors are welcome.
The Grace Men's Breakfast Group meets the last Saturday of every month @ 8:00 AM.
Grace Women's Bible Study meets every Saturday morning @ 9:30 AM